In honor of the 4th of July, I have another healthy recipe for you.  I really love quick breads, and this one is amazing!  It is full of berries, coconut, and….you'd never guess…zucchini!  Did I mention that it is vegan and gluten-free?  This is practically the perfect recipe!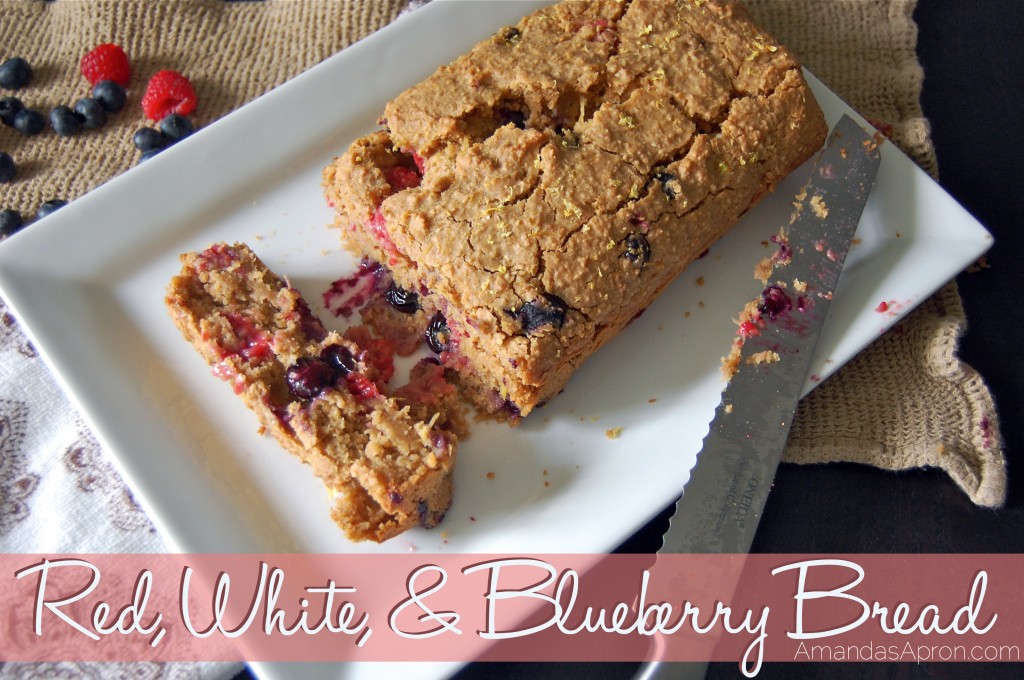 Ok, I'll admit it.  My bread isn't as white as it could be, but I experimented with coconut sugar and loved how it turned out.  If you want a more true white color to the bread, feel free to use white sugar.  If you don't need to worry about gluten, feel free to use all purpose flour, too.
This bread is perfect for breakfast, or as a healthy dessert.  Maybe even served with ice cream!
Red, White, and Blueberry Bread Recipe makes a 9×5 loaf
1C grated zucchini
1C oat flour
1/2C quinoa flour
1/4C brown rice flour
1/4C coconut flour
2/3C coconut sugar
1/2C fresh blueberries
1/2C fresh raspberries
1/2C canola oil
1/2C coconut milk
2 flax seed eggs
1T fresh lemon juice
2t baking powder
1t vanilla extract
1/2t salt
zest from 1 lemon optional
If you haven't washed your produce, do so, leaving the berries spread out on a towel to dry well.  Preheat your oven to 350.  Grease a 9×5 loaf pan and set aside.  Grate zucchini.  You don't need to peel it, but since I didn't want any green to show in this loaf, I did.
It took me about 1.5 medium zucchinis to reach a cup.
In a medium bowl whisk together flours, salt, and baking powder.
Take a bit of the flour and sprinkle over dry berries.  This helps absorb any hiding moisture which will prevent berry blood in the bread.
In a mixing bowl, combine sugar, flax eggs (these should have sat for about a minute,) and canola oil together.
Add in the zucchini, coconut milk, and lemon juice.
Slowly add in the flour with the mixer on low.  Once the flour is fully incorporated, gently fold in berries.
Pour into the loaf pan and bake at 350 for 45-5o minutes.  The top will look a bit cracked and over done, but due to the gluten-free flour, it will need more cook time in the middle and bottom of the loaf.  Don't worry – the zucchini keeps this loaf plenty moist.
Allow the loaf to cool for about 15 minutes before serving.  I couldn't wait, and mine fell apart a bit.  I can't say it wasn't worth it, though!  Those hot berries oozing all over my plate was basically Heaven!
My husband and I are still debating whether this bread is best served hot or cool.  Trust me, you want to serve it hot – no matter what he says!!!  It's so delicious hot, right out of the oven.
Serve with fresh lemon zest on top if you'd like and enjoy!  For more inspiration, check out my July 4th Board on Pinterest.  And have a happy, safe 4th of July!