This year I was privileged to participate in the Great Food Blogger's Cookie Swap.  I received three addresses of other participating bloggers who would receive a batch of cookies from me, and I in turn received three random batches of cookies from different participating bloggers.  Well, I actually only received two batches, but that's a different story.  (Maybe they got lost in the mail?)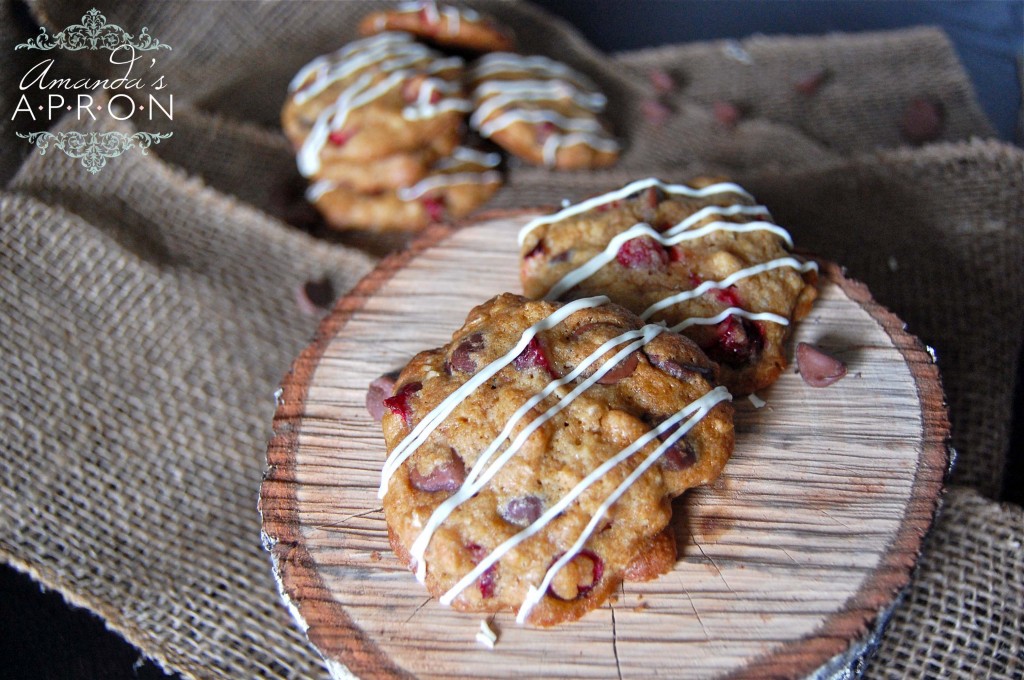 I developed two different recipes and tested them on family and friends to determine the winner.  Though they were both good and unique, when compared to each other, the Triple Chocolate Cranberry were clearly the winner!  I love the combination of cranberry and orange together, but I had never tried cranberry and chocolate before.  The tart taste with the sweet chocolate is what takes this cookie to the next level.
Triple Chocolate Cranberry Cookie Recipe makes about 20
1C fresh cranberries
1C flour
¾C brown sugar
½C oats
½C dark chocolate chips
½C milk chocolate chips
8T butter (1 stick) room temperature
1 egg
1t vanilla extract
½t baking soda
1 pinch salt
melted white chocolate for drizzling
Preheat your oven to 350 and roughly chop the cranberries.  Since these were going to fellow food bloggers, and since I was taking photographs, I meticulously sliced the cranberries so they were symmetrical and pretty.  But they taste just as good when they're roughly chopped and messy!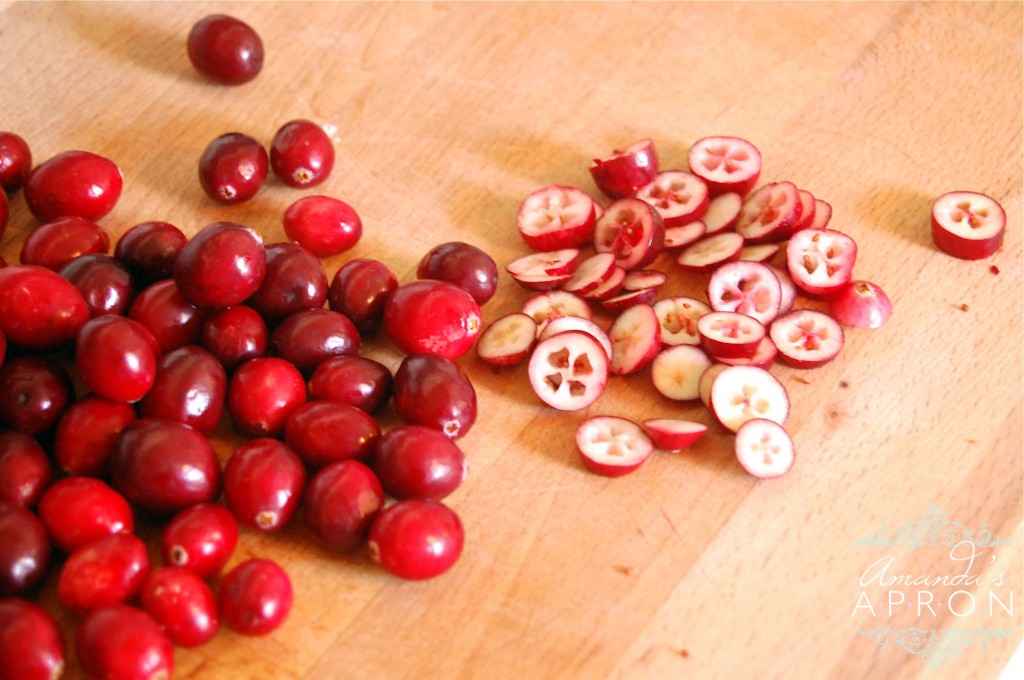 Beat butter and sugar together.  Add egg and vanilla to sugar mixture and mix well.  In a separate bowl, combine flour, salt, and baking soda.  Slowly add the flour mixture in, being careful not to over mix.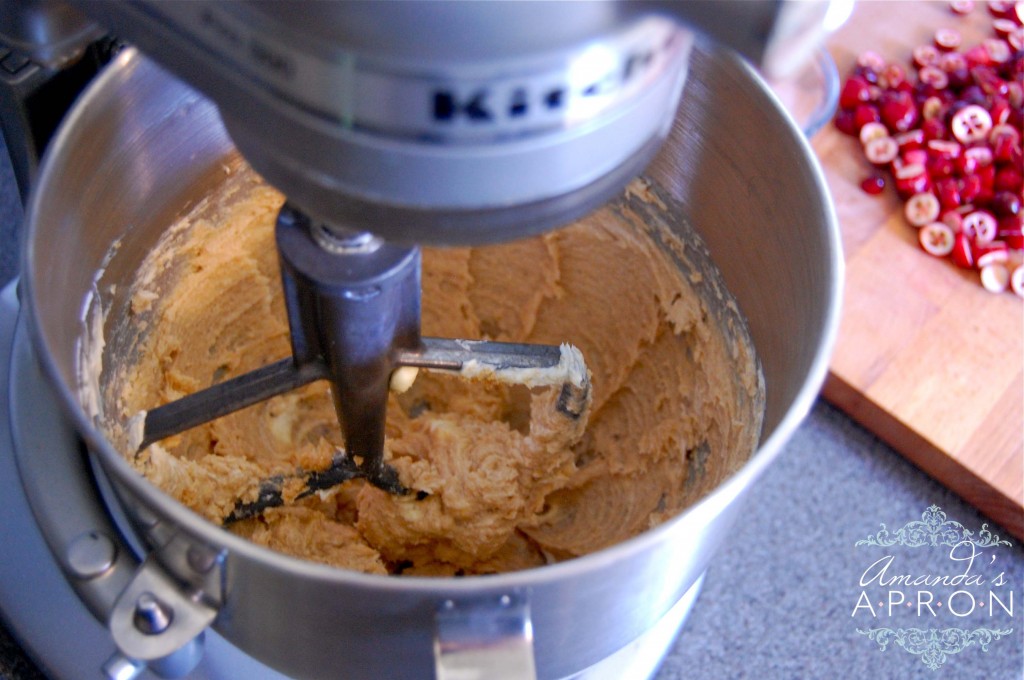 Stir in the dark and milk chocolate chips along with the cranberries by hand with a spatula or a wooden spoon.  This is what is should look like – full of chunky goodness!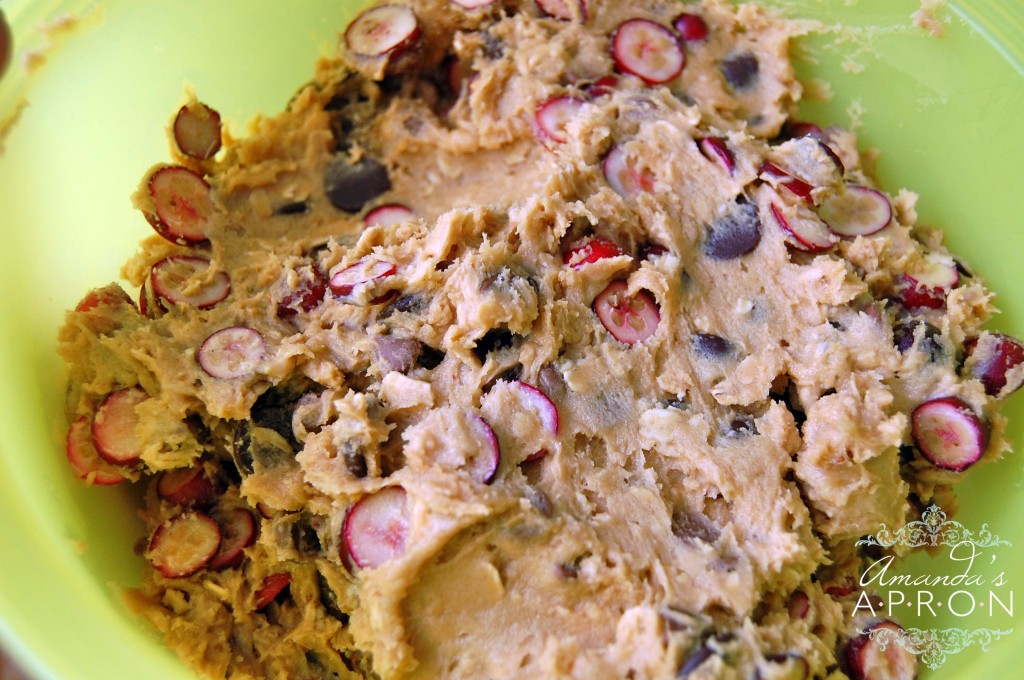 In my research of amazing cookie recipes, I read that if you leave the mixed cookie dough covered in the fridge for 36 hours, the flavors have time to bond and it results in a better tasting cookie.  Well…cookie dough would not last that long in my house!  When I'm making cookies, I want to eat them right away – raw or not!  (I've made this with flax seed "egg" just so I could eat the dough!)  I managed to leave my dough to rest in the fridge for 1-8 hours and had equally good results.
Once out of the fridge, drop teaspoon sized portions onto a cookie sheet covered with silpat paper.  These cookies will not flatten out or change shape too much, so if you want a larger cookie, smash the portions out with a spoon.  Bake these cookies at 350 for approximately 13 minutes.  If you want more of a crunchy cookie, you could risk burning them by baking for 15-16 minutes.  I'm just kidding.  You probably won't burn them, but they likely won't be chewy.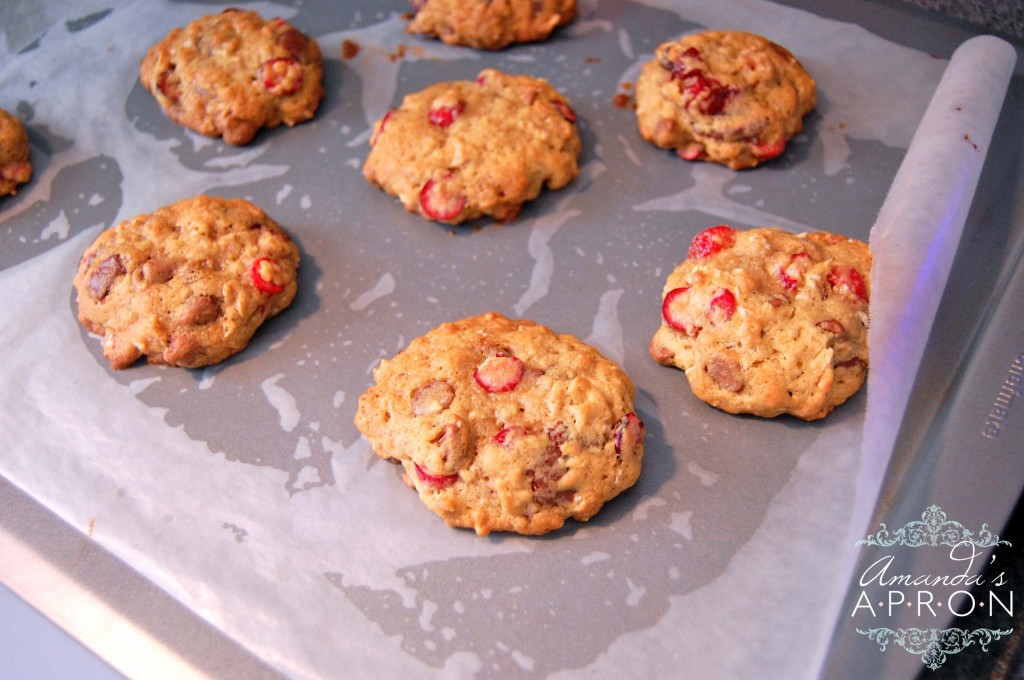 Allow cookies to cool for a few moments on the pan, then for 10-15 minutes on a cooling rack.  Did I mention that Oxo sponsored the Cookie Swap by providing all the bloggers with their Good Cookie spatula?  I love it!  It is perfect for gently lifting and transferring cookies around!  Oxo is a partner with Cookies for Kids Cancer and all the food bloggers donated to this great cause as well.  If you would like to host a bake sale to contribute to Cookies for Kids Cancer, they've got great tips and tools for you here.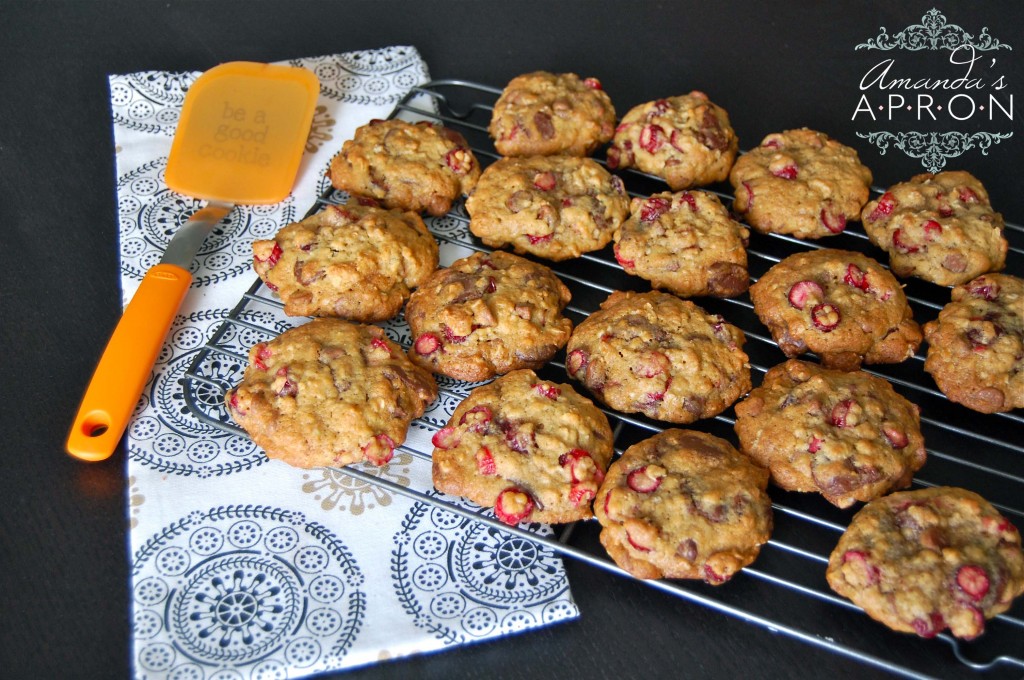 Once the cookies are cool, melt the white chocolate chips and drizzle white chocolate over the cookies.  For an easy way to melt chocolate, see my tips here.  Allow chocolate topping to cool for at least one hour before trying to stack or store cookies.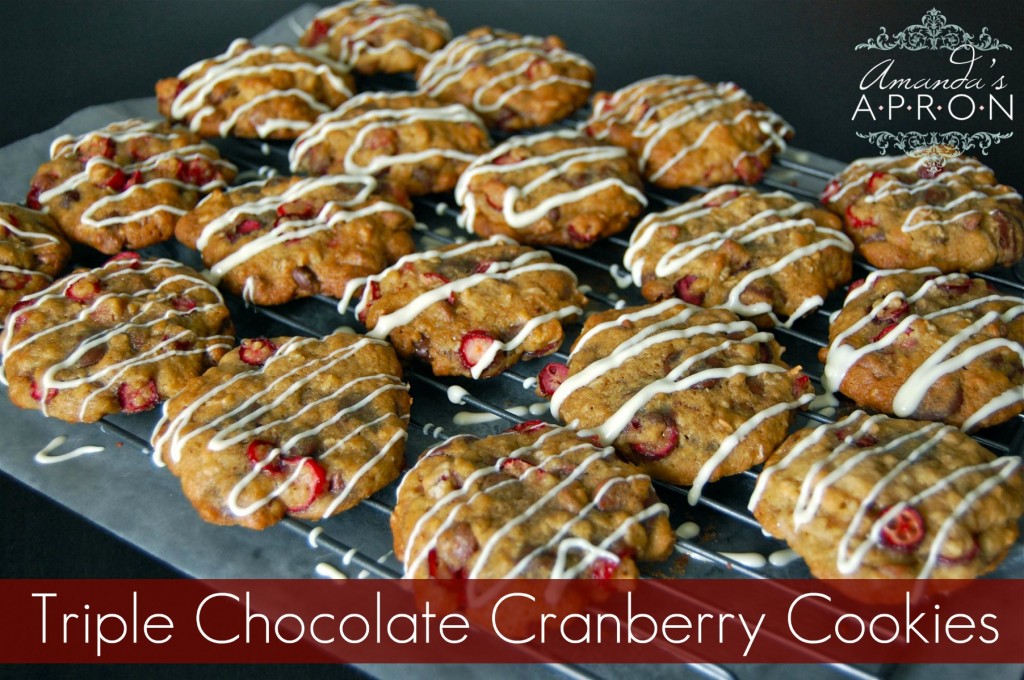 I packaged my cookies with love for three lucky food blogger recipients in the cookie swap.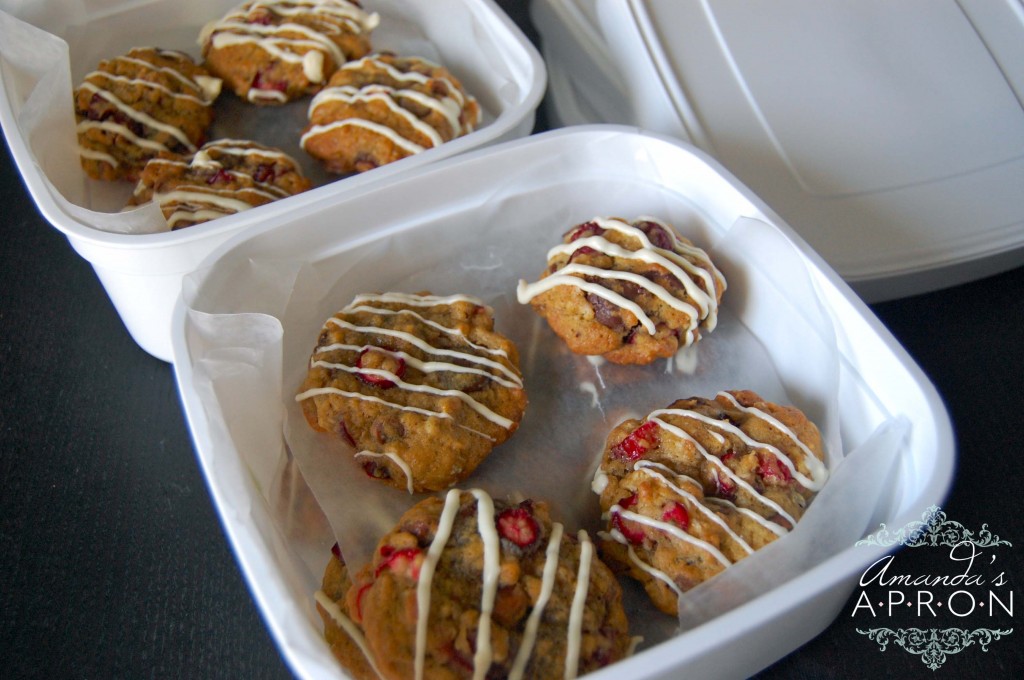 It was fun to bake for Jennifer, Andrea, Sarah, and their families!
My husband was sad to see the cookies go, so I made an extra batch for him and all of my tasters to enjoy again!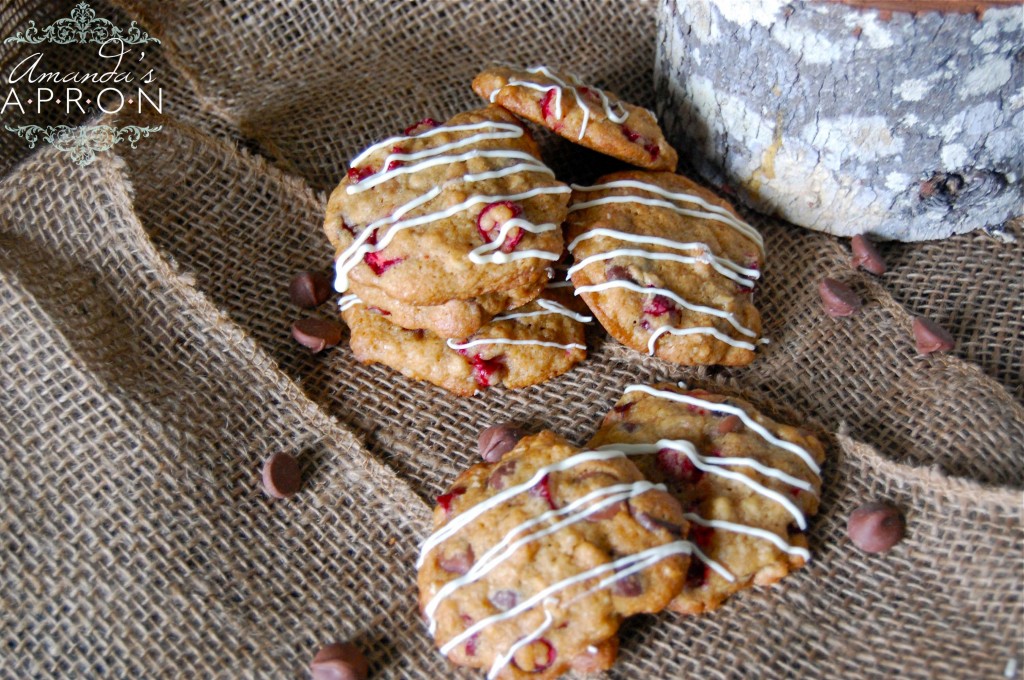 This is seriously my new favorite cookie!  I hope you love it as much as I do!
For more delicious cranberry recipes, check out Cranberry Week!